Skip Navigation
Website Accessibility
Idaho Falls: 208-522-1422 Pocatello: 208-232-8228
HOURS: MON - FRI 10:00 A.M. - 6:00 P.M. | SAT: 10:00 A.M. - 4:00 P.M.
OUR STORY
Gary & Geri Berg established Gary's Sewing Center and had served Eastern Idaho and Western Wyoming for over 35 years. With their expansive knowledge of the ever changing multi million dollar sewing industry, Gary's Sewing Center, is your leading sewing business. As business has grown, we have changed to offer the very best for you, our customers. When we began we sold Bernina sewing machines and Passap knitting machines in Pocatello. Eventually the knitting industry changed and we shifted our focus to sewing and quilting related products. After a few location changes in Pocatello we settled into our Yellowstone store in 1992. We were able to expand that location a few years later. In 1997, we opened our second location in Idaho Falls and became the authorized Baby Lock retailer. In 2004, we added the Handi Quilter line of long arm quilting machines and products. In 2015 we doubled the size of our Idaho Falls store. We feel our three brands are a great balance, offering you the customer everything you would ever need and want. Because we love sewing, we're always on the hunt for the newest gadget and latest and greatest technology.
Former Pocatello store on Jefferson 1987
Sign on Jefferson building, 1987.
Current Pocatello store on Yellowstone Ave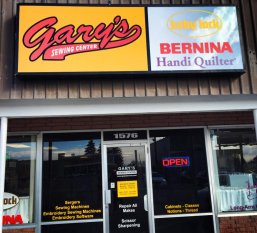 Current Idaho Falls store on Broadway Ave






We are truly a family business. Son Lucas and daughter Jenni practically grew up in the stores, and are active in day to day operations of both locations. If you're from the area, many of you purchased your first machine from Gary or Geri thirty years ago, or just received a brand new machine from the knowledgable Gary's Sewing Center team. In Feb 2018, Geri passed away. Gary retired January of 2020. With the grown Berg children at the helm for the past couple of years, Gary's Sewing Center is excited for their next chapter serving our community!
OUR FOCUS
Excellent Service - from your first purchase to getting your annual maintenance, service is key in our stores.
Education - expansive class schedule covers all aspects of your machine and your sewing
Premiere Products - because we use what we sell, it's all top quality.
Easy - We have lay-away, exceptional financing through Synchrony Bank to turn any sewing dream into easy monthly payments.
Community - We are members of the Pocatello Chamber of Commerce and active in our local neighborhoods, charities and non-profits. We also support our local quilt guilds and schools. We supply 45 schools and universities with sewing machines in Southeastern Idaho. Generally in the spring we have a few school trade ins, so if you're looking for a good pre-owned machine, get on the waiting list now.
Not only does Gary's offer premium products from sewing elite Bernina, Baby Lock and Handi Quilter, we specialized in making each customer a life long friend.